Joined

Oct 23, 2008
Messages

7,118
Location
This thread has arisen due to a unique set of circumstances and will probably only make sense to Shrimpers In Exile who go through strange superstitious rituals in support of our team back home.
Yesterday afternoon at approx. 4.25pm Greenwich Mean Time, I realised that I just had enough time to sit down and follow the denouement to our game via Jeff Stelling and co.'s updates. Usually, if I turn on there and we're winning, I stay with it so as not to upset The Gods of Football and jinx the outcome. At this time, we were losing 2-1 and I was understandably bemused. I was going to turn off and do something else before I had to leave Fort Nox at 4.55p.m. but our veteran (19 y.o.) cat called 'Chicken' paid me the honour of sitting on my lap. I think, on reflection, that this was "a sign" from The Gods of Football. I decided to stay with this moment of feline footballing karma.
You might imagine my delight when the score of 2-2 (Ferdinand 68) flashed onto my screen a few minutes later. I fist-pumped quietly so as not to upset Our Chick and gave him a little stroke on his head with my other hand. I was eagerly watching all the other little scenarios affecting our League position, i.e. from Bradford, Millwall and Oxford in particular and, at that time, I was quite pleased with how they were progressing.
I had a great hope that having come back from 2-0 down that we were going to wrest this one from the gaping jaws of defeat. However, I was worried that in our efforts to press for the win that we might leave ourselves open to a counter and I was dreading a yellow indentation on the big screen signifying that Walsall had scored.
You know that my fears were totally unfounded. Chick stayed resolute on my lap and Simon Cox (83) - cue vigorous but quiet fist pump - made our great hopes a mighty reality. Chick's game was far from over though. We sat through unfortunate unfurlings from Bradford, a delightful outcome at Oxford and a pleasing stalemate at Millwall prior to the 'FT' being confirmed at Roots Hall. I praised Chick for his great performance with a highly affectionate rub of his ginger nut and placed him carefully off my lap onto the sofa. This result has now placed Chick to the forefront of my footballing superstitions and next Saturday at 4.25, we will be there on the sofa and we'll battle on together for The Play-Off Surge.
Remember, my fellow Shrimpers, you're never alone when Chicken is on my lap.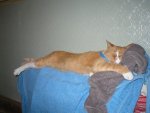 Last edited: