Joined

Apr 28, 2006
Messages

7,642
Likes

677
Location
A Century Ago - Southend United 1919-20
Episode 1: A New Ground and Pre-Season
Whenever you read a history of the club it always seems to say "after the First World war the club moved to the Kursaal and were elected to the Third Division for the 1920-21 season". What about the 1919-20 season, probably the most important for the survival of the club, this season often seems to have been totally overlooked
GETTING BACK TO NORMAL?
Southend United had been founded 13 years previously and after an explosive and free scoring start in the Southern League Second Division, they soon came up against the Northern monopoly and bureaucracy of the league when Bradford P.A. took Southend's rightful place in the fop flight of the Southern League. However they did eventually gain promotion but later tasted relegation to the largely Welsh Second Division, struggled back to the First division just before the First World War broke out. Some clubs folded during the War but the spirit was still alive in Southend, they wanted to keep their football club. The problems in doing so were largely financial and various schemes were started to raise the revenue, but found a poor response from the public. Our previous football history was all forgotten, only the horrors of the war remained, every person, family and community had been touched by the effects and the tragedies of the war and wanted now to get back to normal. The trouble was there was no normal, the "stiff upper lip" attitude had been corroded by the tragedies and suffering. The upper structure tried to maintain the "status quo", but as the soldiers returned to find the land fit for hero's was not quite as they had imagined, being asked for cash for the local football team wasn't top of their priorities.
THE GROUND
Apart from the finance the major problem had been a ground to play on, "good old" Roots Hall" was no longer available and now little more than a vegetable patch. The council keen to keep the club going came up with options for pitches at either Southchurch Park or Chalkwall Park, but while these were being debated a deal was being agreed with an American businessman Clifton Jay Morehouse for a one year lease (with an option for a second year) on the pitch at the Kursaal Ground. A scheme was raised to raise a 100,000 shillings (£5,000 by the sale of 5s (25p) shares. Then as now, the football fan wanted an hour and half break from the household worries and responsibilities, a time when you could let yourself go, shout, and swear if you wanted, but that came at a price. A season ticket before the war had cost 12/6d (62½.5p) for 1919-20 it was £1 2s 6d (£1.12½d), is there any wonder share issues were greeted by a "luke warm " reception.
20th May 1919


A meeting was held at the Kursaal regarding the reconstruction of Southend United Football Club and there were between 350 and 400 present including many ladies. It was felt that while their was no need to back track over the chequered history of the club, it should be emphasised the desire and advantages of having a first class club in the Borough. Lovers of sport it was hoped would soon be able to hear "Play up the Blues" from southern League games at the new ground at the Kursaal, and the advantages of the borough in holding first class football in the town were considerably. Funding always had and was still the problem and the idea was agreed upon to try and raise 100,000 shillings to put the Club in a workable position. It was felt that this £5,000 fund would be sufficient as outstanding depts. Were outlined and it was also stated that the club had signed Percy Sands and the Arsenal had never had a better man than he.
From the Southend Standard 22nd May 1919
.

MANAGER
A big surprise was the fact that the pre war manager Joe Bradshaw was not offered his old job, instead a former player Ned Liddell was given the job. For the returning soldiers who all assumed they were going back to their old jobs, this was not an uncommon situation. Joe Bradshaw went on to manage Swansea and he guided them to promotion to the second division, but later took over at Fulham and was in charge when they were relegated from the second division.
Mr Lidell has a wide selection of well known players eager to come to Southend but he is handicapped by lack of funds and the wherewithal with which to pay transfer fees. Unless supporters provide the money to obtain a good team they must not grumble next season if the eleven is not of the calibre which they require. The onus is on them. Mr J. Bradshaw, Southend United's late manager will arrive back in England on Sunday for demobilisation after having spent four years in France. He will at once take on his duties as manager of the Swansea Football Club.
From the Southend Standard 19th June 1919
The Southend United fund to raise 100,000 shillings had lists of subscribers published in the paper with the fund now up to 6,419, The paper had other stories many connected to the war, such as "Ammunition dumped on Fishing Ground", which had the Oyster merchants protesting over this action, and other articles relating to the war, advising of postings and Honours for Officers, Peace Celebrations, "Town's War Memorial".
In June 1919 the fixture lists were published and at this time the total number of the required 100,000 shillings stood at 6,290.
UNITED'S GROUND PUBLICLY INSPECTED
Southend United's football ground was thrown open to the public on Saturday and the occasion was favourable with ideal weather. The group of people were entertained by Mr. Meek's Hippodrome band whose services had been requisitioned to brighten the day. Many hundreds treated both ground and dressing rooms to a critical examination and had the various points for and against explained by the management. Those who knew the old ground at Prittlewell readily saw the advantages the present pitch holds over Roots Hall. Spectators after their look round usually visited the table from which shares were readily being taken up. The Mayor and party arrived at 04.30 p.m. and the crowd were entertained until 8.00 p.m. when the ground was closed.
The ground measuring 115 yards by 75 yards, like the Arsenal's it is fenced three yards from the touch line. It is capable of accommodating and it is hoped will accommodate, 36,000 people. There remains yet to be considered the terracing round the pitch and a start in that direction has already been made. Directly opposite the dressing room is a terraced enclosure for directors. The turfing of the pitch is complete which is beautifully green and in excellent condition like a carpet and the fence round a pitch is also completed. Entrance to the ground are from Burdett Road on the south and Woodgrange Drive on the north. A special appeal goes out for the purchase of a grandstand and it is hoped that this will be up by October at the latest, until then a temporary shelter will be arranged. Contained in the handsome structure on the South side are the directors rooms, baths, dressing rooms, gymnasium and store room. The directors room which opens on to there enclosure, will later be turned into a recreation room and gymnasium for the players. Attached is a smaller room for the referee and linesmen. Below stairs are the teams dressing rooms with separate accommodation for players in their different positions. These open into a room containing a large concrete bath with geyser also a shower bath arrangement. The comfort of the visiting team is similar.
From the Southend Standard
14th August 1919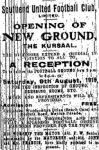 ​
THE PLAYERS
The Southend United players as printed in the Southend Standard 14th August 1919
Player
…………....….
Birthplace
...………….
Position
...………...
Height
...…...
Weight
...…………….
Former Clubs
R.J Leahy...………..Canning Town,,,,,,,,Goalkeeper……... 6ft 1 in...…... 12st 6 lbs
R.G. Hill *………….Leigh.........................Goalkeeper...……...6ft...………….. 11st 6 lbs
G.H. Marshall...….Walker on Tyne.....Left back...………. .5ft 8in...…... 11st
H.S. Britton *……..Rayleigh...…………..Right back...……... 6ft 12st...…..6 lbs........................….Rayleigh
M. Woodward......Nuneaton...………...Left half...………... 5ft 11.5 in.. 12st
P.R. Sands...……….Lewisham...………...Centre half ……….5ft 11in …...13st...…………………... Arsenal
E.W. Emery...……..Leigh..................…….Right Half ………...5ft 9.5 in--- 11st
R.H. Young *……..Southend...………….Right Half ………...5ft 8in...…... 10st 6 lbs
A.A. Grant *…...….Southend...………….Centre Half...……. 5ft 8 in ……..10st
G J. Nicholls...…….Victoria Park...…….Outside Right...…. 5ft 7 in...…. 10st.............................Chelsea
J. Bellamy...……….Bethnal Green...…...Inside Right ……….5ft 9 in...….. 12st......…..Fulham & Burnley
D. Upex…………….Peterborough...…..Centre Forward...... 5ft 10in...... 12st........Croydon Common
A.H. Clark *……….Wanstead...………...Centre Forward...... 5ft 10.5 in ...11st 11ib...………….Wanstead
F. Burrill...…………..Manor Park...……...Inside left...…………. 5ft 9 in …….11st
W. Bridgeman......Bromley by Bow...Outside left...………. 5ft 8.5 in.... 11st 8 lbs.........……….Chelsea
J. Young...………….Whitburn...………... Outside left ………...5ft 9.5 in..... 11st 8 lbs.
* amateur
The list above was not complete there was still two weeks till the start of the season, other players were added.
Ned Liddell set about preparing for his first season, and the first problem was getting a team together without recent matches to gauge players the obvious option was to re-sign as many of the pre war team as he could. The following players were re-signed Hinege Wileman, Frank Burrill, Maurice Woodward, Ted Leahy, George Marshall, Ernie Emery. R H Young, and Jack Young.
The outstanding signing was Lot Jones signed from Manchester City and already a Welsh International. Lot Jones an extremely clever inside forward, had over sixteen caps for Wales and had just had a benefit from Manchester City after making over 800 appearances.
Other signings were Right Back Reed from Huddersfield who came with a fine reputation, Bob Reid from Burnley, John Bollington from Walsall, George Nicholls and Billy Bridgeman both and from Chelsea, Dick Upex from Croydon Common and Percy Sands from Arsenal (Percy had spent 17 years at The Arsenal making 350 appearances but was 38 when signing for Southend. Making only a few appearances before retiring from football)

Percy Sands​
For the start of the season the anticipated first team were:
Goalkeepers
: First choice was
Ted Leahy
but a useful alternative was
Emblem

Full Backs
Former player
George Marshall
and new signings
Bob Reid
were the regular choices.
Centre Hall
two new pivots were signed
John Bollington
and
Percy Sands

Half backs
long serving
Henage Wileman
and
Ernie Emery

Wingers
too new signings
Jack Young
and
Billy Bridgeman

Inside Forward
former player
Frank Burrill
and new signing, 16 Welsh cap
Lot Jones

Centre Forward
Albert Frost
PRE SEASON
A high profile friendly against West Ham had to be cancelled because the ground wasn't ready but they did manage two trial games.
16th August 1919
First Public Trial Match Blues 1-1 Reds
It was the first football match for Southend United since the 1st May 1915 and the whole country had more important things to worry about than football but now four and a half years later, the first Public Trial match kicked off at 3.30 p.m. The weather was remarkably hot, too hot it seemed to play a winter pastime, but a good crowd of about 800 were in attendance at the new ground which still needed much attention especially in the form of a grandstand. The players in such tropical weather weren't going to exert themselves too much but in an entertaining match Simons and Burrill both scored making the score 1-1 at half time. The second half was even tamer and the game finished 1-1
I understand that a representation has been made to the Midland Railway Company to erect a halt at Brewery Road Bridge
(what is now Southend East Station).
This would be a great convenience for spectators coming from Westcliff Leigh and straight from the City and should be a great source of income to the company for a small expenditure.
From the Southend Standard 28th August 1919
23rd August !919
Second Public Trial Match Blues 2-1 Reds
The second Trial started with more enthusiasm than the first, and with the addition of more players to the squad such as Henage Wileman who had resigned for the club the Blues won 2-1 with Bellamy and Upex scoring for the Blues in the first half, while the second half was disappointing as the players struggled Hadley scored for the Reds to reduced the lead
Next Monday Episode 2: The season begins
Last edited: