My butt's for sitting, not for kissing⭐
Joined

Jan 19, 2007
Messages

5,479
Location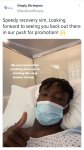 Sorry, but this has really got my back up. Yes, there are more important things going on right now. Yes, it's specifically Ron Martin's communication with us that many fans are rounding on. But this right here is another in a fairly long line of instances of the club not updating supporters about goings on.
Why is this the first that any of us have heard about Simeon Akinola needing an operation? A combination of this not being communicated, plus Phil Brown's comment about players "hiding in the treatment room", is exactly what causes people to add 2 and 2 and get 5. The resulting speculation has led to Simeon Akinola having the knife dug in by fans on here and across social media.
All it needed was a club tweet and all the conspiracy theories could have stopped.
It's things like this that leave a bit of a bitter taste in my mouth when it comes to this football club, and it seriously needs to improve.
Last edited: