Joined

Oct 26, 2003
Messages

22,717
Location
Tell you what I am not normaly over critical of the Old Bill as I know they have a job to do however last night they mobbed up in Tesco car park in Southend, about 12 VG Vans 6 bike units 10 cars even police horses and then convoyed down to Mayhem night club where it was raided!
They closed the club and everybody was thrown out and everybody leaving was drug searched!
I am being told that as for as 3 people I have asked could see that only 1 person was arrested through the whole operation and that was for public order!
Now I know Southend night scene quite well and Mayhem is NOT a good place for Essex OB to target from their perspective the club its not 'full' of drugs its no better or worse then you average club and there are much better 'headline' targets that will prove results for the old bill in town.
Was somebody 21st birthday celebration in there last night! I feel sorry for that person having their night spoiled by her Majesty's constabulary
The bloody thing looked like a guard of honor when exiting the place!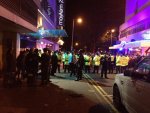 What they looking to find anyway? you wont find any major dealers inside there with anything to pinch them with intent to supply!
I am not pro drugs as such but I have had me own battles with them but this is over the top and targeted wrong for me!