Super Moderator⭐
Staff member
Joined

Aug 13, 2008
Messages

8,252
Germany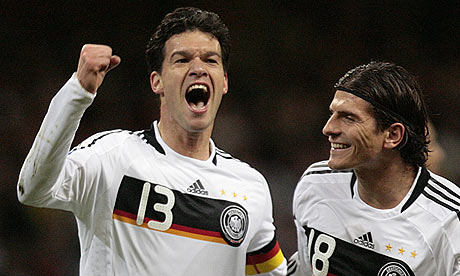 Manager:
Joachim Low
Captain:
Michael Ballack
FIFA Ranking:
6
Group D
Background:
Third when they hosted the tournament in 2006, Germany enter the 2010 World Cup as one of the favourites in their seventeenth World Cup appearance, only having missed out in 1930 and 1950. However, in 1954, they came back stronger as they won the Jules Rimet trophy for the first time, they followed this up by winning the tournament on home soil in 1974 and then again in Italy in 1990. However, for the first time the German public do not expect, with expectations lowered after years of high expectations lead to disappointment at the latter stages the Germans are this year a bit more modest, former star Gunter Netzer saying, "It would be a success to simply do well at the Wold Cup." Something echoed by the German nation.
Qualification:
Undefeated in qualifying, the Germans had an impressive campaign, which started with a 6-0 win over Liechtenstein. However, they did come close to losing more than two points from one game as they failed to beat Finland, drawing 3-3 and 1-1, an injury time equaliser from Lucas Pdolski preventing embarassment in their final game, the 1-1 draw, while the other draw needed an 83rd minute equaliser to secure a point. They finished four points clear at the top, Guus Hiddink's Russia finishing second after two impressive German wins over the Russians.
The Team
Strengths:
Fit, motivated and organised. This is what helped the Germans as they only conceded five in qualifying. Physically they are strong and big, centre-back Per Mertesacker measuring 6ft6in. They win almost every header and barely ever lose a battle on the ball, particularly in midfield where attacking midfielders Bastian Schweinsteiger and Michael Ballack now hold.
Weaknesses:
Strangely, their defence is both their strength and their weakness. The Germans have two of the four positions in defence up in the air with no clear contender for one full back role (Phillip Lahm can play in either), and the second centre back position. The goalkeeper position is also weak with Leverkusen's Rene Adler the number one, he is often inconsistent and very inexperienced at this level. They have also failed to beat a "Big Footballing Nation" (Argentina, Brazil, England, France, Holland, Italy and Spain) in 90 or even 120 of football since 1990.
The Manager:
Tough and tactical, Joachim Low was Jurgen Klinsmann's assistant in 2006 and many believe he organised the tactics while the manager motivated. A popular figure amond the German FA and fans, his future, however, is still unclear, as contract talks in February broke down and were left until after the World Cup. He prefers the 4-2-3-1 formation and isn't afraid to move a big names position or get rid of them completely, as Torsten Frings found out.
Star Men: Philipp Lahm (Bayern Munich)
The versatile full back is arguably Germany's best player. A fantastic crosser of the ball who looks to get forward whenever possible, the 26 year old Bayern man already has 64 caps to his name. Similar to Glen Johnson in style but much stronger defensively, Lahm is a key player if the Germans are to do well in this tournament, as he was the only player in the whole World Cup 2010 qualifying campaign to play the whole 90 minutes in every match.
Mesut Ozil (Werder Bremen)
May 2010 - Barely known outside of Germany. July 2010 - Expect him to be a household name. The best of a talented bunch of German youngsters, Ozil was one of the first names on the team sheet in Schalke at the age of 17, had earned a transfer to Werder Bremen by 19, scored the winner in the German Cup final and demolished the England U21's at the U21 European Championship at the age of 20 and now at 21, Ozil could take the world by storm. A creative midfielder that plays in a similar style to Michael Ballack, who has had to drop to a holding midfielder in order to allow Ozil to play at his best.
manor15's Prediction
Semi-Finals.
Strong, fit, organised, motivated and with no pressure, the Germans could do very well in South Africa. However, Miroslav Klose is ageing, and as the lone front man, perhaps backed up by Lucas Podolski, this could prove a problem against ever fastening defences, but he will be motivated by the stat that reproducing his previous World Cup form (five goals in both 2002 and 2006) to score another five in 2010 will see him equal Ronaldo's World Cup record. A tie against, most likely, Argentina in the Quarter-Finals, could be a real test but with the edge of flair that Argentina use as a strength, Germany can expect to progress.