Super Moderator
Staff member
Joined

Aug 13, 2008
Messages

8,192
Group B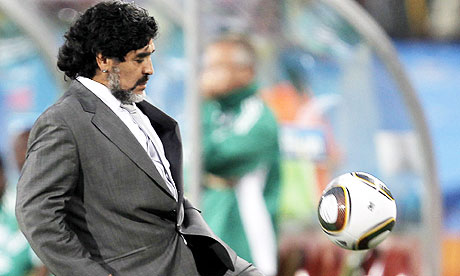 ​
Played Wins Draws Losses For Against GD Pts
Argentina 3 3 0 0 7 1 +6 9​

South Korea 3 1 1 1 5 6 -1 4​

Greece 3 1 0 2 2 5 -3 3​

Nigeria 3 0 1 2 3 5 -2 1​
Group God: Leo Messi has proved that he really is one of the best players ever to play the game of football. Sure, he lacked the goals, but he hit the post twice, set up most of Argentina's and was pretty much unstoppable, even when he's man marked.

Group Donkey: As much as it's hurts to say this about, arguably, a great coach who led a minnow nation to Euro 2004 glory, Otto Rehhagel got it all wrong in South Africa. The fact that he only appears to have one tactic for the Greeks, to sit back and defend, was exploited and failed, as the Greeks had the worst goal difference in the groups and failed to attack.​
The Argentinians, led by Maradona, started well with a convincing 1-0 victory which saw Gabriel Heinze head in to defeat the Super Eagles of Nigeria. However, they did not top the group by the end of matchday one for Group B as South Korea exploited Greek weaknesses after a 7th minute opener saw the Asians see off the ex-European Champions with a 2-0 victory. Maradona's flamboyant press conferences and a few kisses and cuddles for his players, despite his detailed description of girlfriend Veronica, appeared to give the Argentinians more confidence as they demolished the defensive South Koreans 4-1, Gonzalo Higuain securing a convincing hat-trick, the first of the tournament, although the Argentinian defending was a little less convincing. Greece continued to look weak, a red card for Sani Kaita preventing a battering and helped Greece, alongside a deflected goal and a goalkeeping error, to their first ever World Cup win. The final two matches again saw Argentina give an assured performance that tested Maradona's patience as it took his side 77 minutes before centre back Demichelis nodded in, to break down the Greek defence which had proved solid, particularly through the man marking of Messi. Nigeria and South Korea also fought out an entertaining game which resulted in a Nigerian penalty equalising in the 69th minute after going behind to a Park Chu Yong free kick just after half time, putting the South Americans and the South Koreans through to the second round.
Gonzalo Higuain of Argentina was the player with the best Castrol Index rating in the group of 9.63, a rating determined by fans ratings after and during matches.