Joined

Aug 13, 2007
Messages

5,310
Location
This week, Tom (A Century United) from all the way up the top of Scotland answers the questions. Below is a picture of him amongst the starting 11 for the League 2 Playoff Final. The woman in white sitting on the number 1 forgot her boots that day, thus why Duncan Jupp got the nod.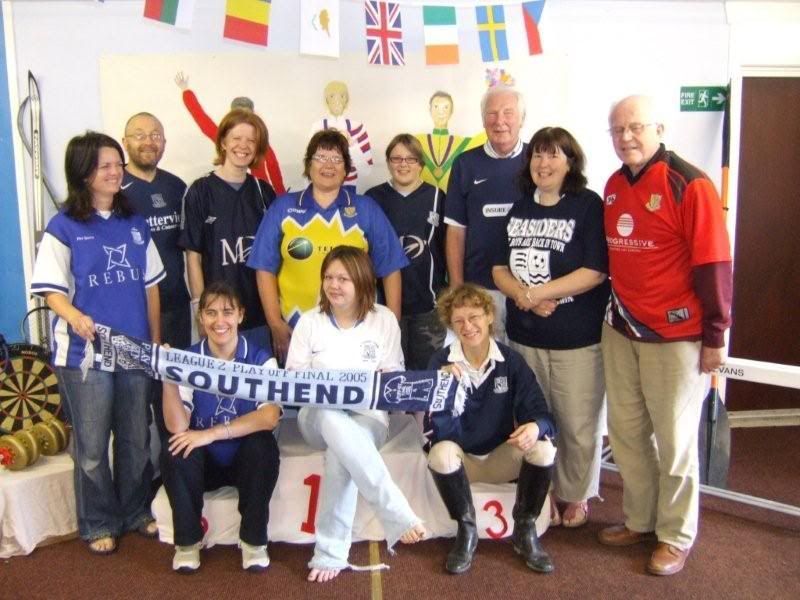 1) How long have you been an exile?
A) Last lived and worked in Southend in 1982.
2) Why did you leave Essex?
A) Got married and my wife had just got a job in Oxford, so moved there, then Abingdon, Newbold-on-Stour, and finally here to Aultbea.
3) Most memorable trip?
A) Tough one this but has to be the Play-off final, third trip to Cardiff in 14 months, over 300 minutes without even seeing us score, and then pandemonium as Freddy and Duncan Jupp send us up.
4) Whilst SUFC fans prepare their usual Saturday home routines of pub, Fish House, match, what is your Saturday routine when the Blues are playing?
A) Careful donning of lucky articles of clothing, and then I settle down with a bottle of beer, Blues World on the laptop and Jeff Stelling on the telly.
5) Do you wear a kilt? And do you think the SUFC club shop should stock a Southend themed Kilt? And more importantly, does Aberdeen Shrimper wear one on the sly without admitting it?
A) Wore one to Grimsby, the Wrexham final, and Bristol City. Would still wear it to the odd match but my son and Lucky Derek are at the age when making yourself stand out like that isn't cool anymore, and they won't wear theirs. Did suggest an SUFC tartan to Scriv, (after all even Bermuda have one) but never heard back from him. 'Course Aberdeen wears a kilt, he doth protest too much, methinks, and is clearly a closet Don and Sweaty.
6) Favourite current and past player, and why?
A) Terry Johnson - fantastic memories including nutmegging Chopper Harris and leaving him on his backside against Chelsea in the FA cup. I don't see the lads often enough to have a particular favourite, but you've got to love someone who is a fan of the club he plays for, so Adam Barrett, tied with Alan Macormack for his passion and '80's style thuggery (the modern Mcdonough?)!
7) Who would win in a fight? Alan McCormack or Nicky Bailey, with Kevin Maher as the special guest referee?
A) Alan without a doubt. It would only last a couple of seconds and Bailey would suddenly remember a dream move he had to make and scarper.
8) Favourite SUFC kit of all time?
A) Betterview. Double promotion winning, and unique. I love the all Navy.
9) Have you converted many people where you are situated to the Blues' cause?
A) My son's friend Lucky Derek, obviously, and several other school friends have been to games. My love of SUFC is well known around the village and when we beat Man U my phone was flooded with texts of congratulations.
10) Hardest part of being exiled for you?
A) Not being able to just pull on my coat and head out for the game. Nearest game to me is Carlisle, which is almost exactly as far South of me as it is North of Southend, so any trip to a game has to be well planned in advance and saved up for.
11) Special and memorable characters / rogues from your travels that deserve a mention?
A) Not individuals but standing on the North Bank on a Friday night in a sea of noisy Southend fans is a hard to beat memory, and there were many great characters and some excellent banter there.
12) Least memorable trip as an exile?
A) Swansea Dec 15th 2007. Son Ross chose it as his Birthday treat, it was a dreary drive, a dreadful game and it was bloody freezing. Even the presence of Lucky Derek couldn't avert the inevitable, and it was a very glum drive back North.
13) Where is the weirdest place you may have bumped into a fellow Shrimper abroad?
A) I was in the Army Air Corps, and in 1978 I was serving with the United Nations force in Cyprus. First Saturday on the base I was in the International Club, a bar for all the units too small to justify a seperate one, listening to the footie results on World Service. As results came through fans of the various teams would jump up and cheer, so when our result came through I did likewise - to find that three or four other guys from different units had also jumped up, and it transpired they too were from Southend. Not that many people in the 'Nash, so very unexpected. The other meeting was not long after moving up here, I spotted a visitors car with an SUFC badge. Managed to meet the owner, and it turned out that he had been born and brought up in Aultbea but moved to Southend when quite young and was a keen SUFC fan. Later I met his wife, and found out she had been in my brother's class at West Leigh, and therefore had been there when I was there. His son posts on SZ as "Scottish Shrimpers" and he is the custodian of our jointly owned Lion Rampant flag as seen at many away games.
14) Do you follow any Scottish team?
A) I look out for Ross County's results as they are the nearest team, and they do a lot of excellent work in the local schools and communitys, but only one team can make my pulses race and take me from the depths of despair to floating on air!
15) Season expectations?
A) Would love to make the playoffs again, but anything above mid-table would be OK. I hope Tilly can get in a couple of key players in January (especially an experienced Prior-esque centre half) so that we can start next season with a fairly settled team ready to push for promotion.
16) If you were in Tilly's shoes for a day, is there anything you would do differently?
A) Would spend more time trying to anticipate what changes the opposition are going to try in the second half. I feel that because we have a good first half, Tilly just sends the team out to carry on as before, while the opposition change their approach and we end up on the back foot. This is where possibly the earlier use of subs could be helpful!
17) Favourite club captain in your time supporting the club?
A) Alan Moody, fantastic servant of the club and top bloke.
18) Away kit: Reds or Yellows?
A) Must admit I really like some of the red kits we've had lately - but what was wrong with the day-glo orange we used to wear in the '70s?
19) When you do happen to get back to Essex from time to time, besides football, what do you look forward to the most?
A) Like Spanish Shrimper, I enjoy having a drive around looking at my old haunts and seeing how things have changed.
20) If we could sign any player in January (Within reason!) who would you open Uncle Ron's cheque book for?
A) Would love to see someone of the style of Richard Dunne come in - experienced no-nonsense passionate centre half. Doesn't Peter Clarke's contract run out at the end of this season? We need someone to replace him sooner rather than later!
21) South, East or West stand?
A) Spent many happy seasons in the North bank, but wouldn't want to go back there now with those awful seats. East Greens when I can so I can sit with my friend Ron, else South Upper for the crack and the view.
22) How do you feel Southend will cope between now and the next transfer window?
A) We need to get Freedman back as soon as possible, otherwise I think we will be distinctly average.
23) Where were you when Freddy put the ball in the Man U net?
A) I should have been at Roots Hall but couldn't be for reasons I still find hard to forgive. I was squeezed into my front room along with what felt like hundreds of Ross's friends, and I just sat and stared for a couple in seconds in sheer disbelief (surely it had gone wide of the post and bounced behind the net off the advertising hoardings?) and then the room just erupted. After the game a gang of teenagers "rampaged" up and down the road outside, to the bemusement of the villagers, chanting "Ole, ole ole ole, Southend, Southend", surely one of the most surreal things to have happened here. Watched the game again on DVD recently and Ross and I both had goose-bumps as Freddy lashes the ball home.
24) Has Richie Foran been misunderstood? If you were Tilly, would you recall him from Darlington and give him another chance?
A) Sorry Ant, but I don't think so. Team spirit is everything and if Tilly wants shot of a player then we have to back him to the hilt.
(If I had a Christmas Card list Tom, I would be considering taking you off it right about now...
:D
)
25) If the only two women left in the world were Jo Brand and Vanesa Feltz, who would you choose to repopulate the planet and why?
A) To repopulate the world with Feltz would be a crime against Nature and sufficient reason for God to forget his promise and flood us again. At least Jo Brand has a brain, a sense of humour, and nice jugs.
26) If you had to choose one member of SZ to get Dean Austin's old job at Southend, who would you choose and why?
A) Would have to be a team effort between Beefy and Yorkshire Blue, if only because that would **** Wiggy off so much!
A very big thank you to Tom for taking the time out to answer the questions this week. Next week, Sufc_girl (Rachel) from Canada will be talking to us. In a new feature for this thread, there will be some special guest questions coming to Rachel from two of her bestest buddies in toellandback and Backpacking Shrimper. Expect an 18's rating :D
Last edited: