Joined

May 8, 2008
Messages

15,181
Location
Away last weekend, just south of Pau. Went over the border through the Somport Tunnel to see this incredible structure of an International station at Canfranc Estacion. It was lauded as a great trans-Pyrénéean project to link Pau in France and Saragossa in Spain and took 24 years to build. There was a need to make an impressive border terminal and this was achieved with some splendour. In 1928 it was the largest train station in Europe (240 metres long). Sadly, it was never very financially viable and following a spectacular accident with a freight train, in 1970, that brought down a bridge, the French 'temporarily' replaced the train link with a coach........it's still running today!
From the seventies until 2006, the place was open to everyone and was plundered and pillaged until it was an edifice, behind which was ruin and decay.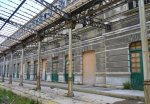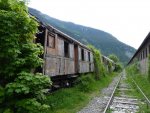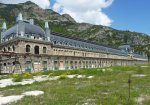 Then, in 2006 (and this is perhaps Ron comes in), renovation started to transform it into a de luxe hotel, casino etc etc etc....this was due to be completed in 2008. As my photos show there is a
little
bit of work still to be done! I reckon we may even see FF completed before this project sees the light of day.
Nevertheless a staggeringly sad yet wonderful place to visit, if any of you have the chance. Finally a question...........Can anyone name the famous 1960's film that used Canfranc Estacion?