Joined

Jan 29, 2007
Messages

1,287
Location
Interesting article.
Southend supporters have certainly been put through the wringer this season, with the very existence of their club hanging in the balance at one stage.
It appeared such issues had been laid to rest once a £2.1million tax bill was settled with HM Revenues and Customs in November.
However, the matter lingers on, with the Shrimpers still battling their way through the courts to clear a claim for some £200,000.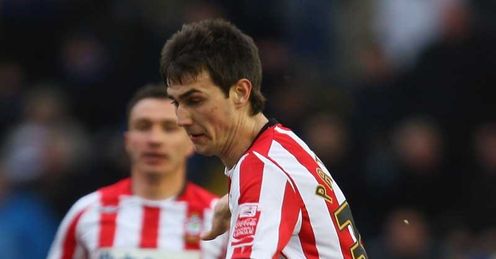 Paterson: Out of the frying pan and into the fire
They remain confident the case will be settled in their favour, allowing them to get back to business on the field, but there are no guarantees.
There can be little doubt that events off the field this season have had an adverse affect on results on it.
An alarming slump has bombed the club into the third tier relegation zone, with an 11-match winless run leaving them in all kinds of trouble.
Steve Tilson's side had entered the New Year perched in the relative safety of mid-table, concerning themselves more with catching those above them than steering clear of those below them.
How times change.
Southend now have just 11 games in which to plot a course to safety, with the sands of time plotting against them.
Their descent into the depths of financial and footballing chaos has been rapid, as just three seasons ago they were beating the likes of Stoke City and Sunderland in the Championship.
While the Potters and the Black Cats are now well established in Premier League, the Shrimpers somehow find themselves staring down the barrel of the gun.
Distractions
Whether they can beat the drop remains to be seen. Whether they can keep the tax man off their back long enough to get their house in order is also an issue for another time.
For now the club must attempt to put all distractions to one side and focus their energy on avoiding a slump into the fourth tier.
A quick glance through their squad suggests they could yet avoid slipping through the trapdoor, but basement battles are won as much in the mind as they are in the heat of battle.
That, though, should not be a problem, as January arrival Matt Paterson told
skysports.com's
Chris Burton recently that everyone at Roots Hall is pulling in the same direction - determined to secure survival on and off the pitch.
"We have got a good bunch of lads, who are all fighting for each other, and we have just been really unlucky in the last few games," he said.
"We just need to try and get a few results now. Once we get into a rhythm and get that first win I'm sure we will be fine. We just need to get one win and then kick on from there.
"There are still 11 games to go, so we have got 11 cup finals to look forward to. We need to work as hard as we can for each other and try to get ourselves out of the situation we are in."
Part of the problem for the Shrimpers of late has been their distinct lack of goals, with just eight plundered during their alarming slump.
"We are all working hard and everyone is trying to chip in," said Paterson, who is expected to help carry the burden.
"We are trying to get a good balance throughout the team. Once we get a win, everyone's confidence will be boosted and we can build from there."
While Southend are in danger of tumbling into the abyss, they remain just four points from safety and Paterson is clinging to the hope that they can still claw their way clear of trouble.
Tight
"The league is very tight," he said.
"You look at Tranmere, they were down there a few games ago and we were a few points ahead of them, then they get a few good results and they have kicked on. That's what we are looking to do now, forget about everyone else and see what happens."
Paterson was brought in by Tilson during the January transfer window, as part of the deal which took Lee Barnard to Southampton.
The 20-year-old frontman admits he never expected to be dragged into a relegation dogfight when he walked through the door on his first day, but insists a reversal in fortune is all that is required to get the campaign back on track.
"Not at all," he said when asked whether he saw the troubles coming when he signed.
"They were doing well. They lost Lee Barnard in part of the deal with me, their top goalscorer with 17 goals, but as soon as I got here I noticed the quality within the squad. I just feel we have been really unlucky."
The former Scotland U19 international has settled well at Roots Hall, despite everything going on around him, and is delighted to have already opened his account for his new employers.
"It's nice to get the first couple of goals out of the way, hopefully I can get a few more now," he said.
"I have got a good striker playing alongside me in Scott Vernon, so it's really good.
"I have got something in my own mind in terms of what I would like to achieve. But keeping the team up is my main target."
Paterson set out on the road to professional stardom at Bournemouth, but made the move along the South Coast to Southampton in 2007.
Development
Having graduated through the youth ranks at St Mary's, he was handed a first-team debut in September 2008.
He soon began to slip down the pecking order, though, and despite penning a new contract last summer decided the time had come to move on once the Saints made their move for Barnard.
Paterson said: "Obviously at Southampton they have got a very good strike force - Rickie Lambert, they have signed Barnard and David Connolly is still there. They are three fantastic strikers.
"I felt I just had to develop as a player and Southend could offer me games.
"The opportunity came around very fast and I just felt that I needed to be playing more games.
"I was very grateful for my opportunity there but sometimes you need to make a decision for yourself and hopefully develop somewhere else."
Paterson could be forgiven for wondering what he has got himself into, with Southend's short-term future far from secure.
He went through a similarly difficult period at Southampton, as they battled and ultimately slipped into administration, but having emerged unscathed from that episode with the Saints, he is confident the same outcome can be achieved at Roots Hall.
"I obviously went through the situation at Southampton with the administration and that, but that's football," he shrugged.
"I am just trying to enjoy my football and see what happens.
"It's not doom and gloom. We have got a good bunch of lads, a good manager and I'm sure we will kick on. We just need to keep moving forward and hopefully keep the club in League One."