Junior Blues Coordinator⭐
Joined

Dec 27, 2007
Messages

49,071
Location
My, how time has flown!
A thoroughly enjoyable stay in Glasgow, a thoroughly embarrassing performance by yours truly balanced out by a thoroughly brilliant performance by our much missed H, and a valiant attempt by him and MK in the final round.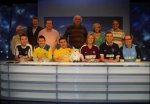 ShrimperZoners' appearance on Eggheads, for those of you who have joined since. And to pre-empt the inevitable, no, we still don't know when it's going to be on again - the episode is unavailable on iplayer!!!