Joined

Jul 6, 2010
Messages

6,432
Location
After a dismal day I got round to opening a couple of boxes of my old SUFC programmes, and other tat, which have been in the loft for more years than I can recall.
One item I had forgotten I still had (thought my mum had chucked it when I left home around 25 years ago) was a Wembley Trophy football, signed by the 1980-81 Division 4 winning squad. I remember this match so clearly, and the players throwing signed balls into the crowd. I was at the game with my dad and grandad, we were playing a friendly against Wolves, who were a leading club back then. I remember standing on the West stand terrace, and catching Ron Pountney's eye - he aimed one of the balls directly at me with a firm throw, to which the then 11 year old wannabe Southend No.1 caught instinctively as the surrounding supporters shouted "oi that's mine!" to which my dad then grabs and declares actually it's my sons and shoves the ball up his jumper. So, had it ever since.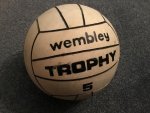 Having spend it's life in lofts, sheds and garages it's seen better day and most of the signatures have faded. I can still make out Dave Smith, Mervyn Cawston, Derek Spence, Tony Hadley, Terry Gray, Dave Cusack, Ron Pountney and Steve Yates.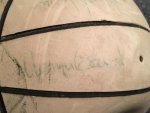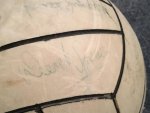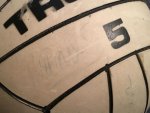 Am sure they are all there somewhere...
Anyone got any interesting SUFC memorabilia hidden in lofts or cupboards?
Last edited: