Light & Bitter
Staff member
Joined

Jan 20, 2007
Messages

5,764
Likes

3,382
Location
The Official Match Thread brought to you by ShrimperZone.com
So here we are the eighth away game of the 2019/20 season and Sol Campbell's 1st away game since he was appointed Manager of the Mighty Shrimpers.
Our eighth away match is against Sunderland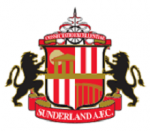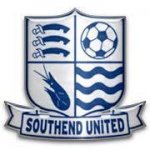 It is now time for ALL of us to get behind Sol and the team whether you are at the Stadium of Light, listening on the radio, or listening/watching on ifollow.
Sol Campbell's Southend United League One Away Team against Sunderland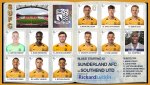 The Stadium of Light is ready for action at 3.00pm Saturday 2nd November 2019, it looks like we are going to have a gloomy overcast afternoon with some heavy rain for the game, and there will be a gentle breeze from the North. It will feel cold, wet, and miserable, so make sure you wrap up well. (Recommend you keep your Yellow/Blue Southend United shirt covered up until in Stadium).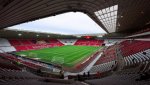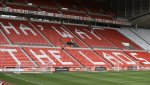 The weather forecast for this afternoon at the Stadium of Light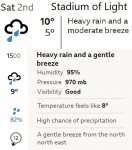 Current League away record after 7 away games
Won 1
Drawn 1
Lost 5
Goals scored 9
Goals conceded 17
League Positions Last Season
5th (2018/19) League One Sunderland
19th (2018/19) League One Southend United
League Positions Current Season
8th (2019/20) League One Sunderland
22nd (2019/20) League One Southend United
Recent League Positions Change
Previous five Meetings
Southend United 2-1 Sunderland (L1 04/05/19 Att. 10,779)
Sunderland 3-0 Southend United (L1 27/10/18 Att. 30,894)
Sunderland 4-0 Southend United (Champ 17/02/07 Att. 33,576)
Southend United 3-1 Sunderland (Champ 19/08/06 Att. 9,848)
Southend United 0-2 Sunderland (L1 27/02/96 Att. 5,810)
Head to Head record
Southend United Wins: 7
Draws: 0
Sunderland Wins: 9
Come On You Yellows!
​