Super Moderator⭐
Staff member
Joined

Aug 13, 2008
Messages

8,641
Group A
Played Wins Draws Losses For Against GD Pts
Uruguary 3 2 1 0 4 0 +4 7​

Mexico 3 1 1 1 3 2 +1 4​

South Africa 3 1 1 1 3 5 -2 4​

France 3 0 1 2 1 4 -3 1​
Group God: Diego Forlan (Uruguay) proved Alex Ferguson wrong, every time he touched the ball if you're listening to ITV, by scoring two against Mexico and being Uruguay's top scorer.​
Group Donkey: Anyone in a France shirt, but think this one goes to Raymond Domenech, the French manager, purely for his failure to, well do anything; pick a decent squad with what is available, pick the best eleven of that, keep control of the squad, or even just to shake hands with an opposition manager, and now to keep his job.​
There were two main stories obviously present in Group A: the self destruction of France and the failure of the host nation to qualify for the knock-out stages. Hosts, South Africa, opened the tournament with an exciting 1-1 draw against Mexico, who stole a late equaliser to silence the vuvuzelas. The excitement of the opening day of the World Cup was soon quashed by a bore draw between Uruguay, eventual group winners, and France, eventual group disaster. Uruguay, one of the highest scoring teams in South American qualifying, wanted to prove they were far from short of goals, as they did by thrashing Bafana Bafana 3-0 on their home turf. Diego Forlan scoring two, one from the spot, before helping to set up Alvaro Pereira for the third. France, however, did prove that they really did need a helping Henry hand to get to the World Cup as they fell apart at the hands of Mexico, Manchester United's new signing Javier Hernandez opening the scoring before Cuauhtemoc Blanco added from the spot after an Eric Abidal foul. This triggered the countdown to self destruct as Nicolas Anelka was controversially sent home over an arguement with Domenech, which simply let the fuse which led to Patrice Evra leading protests which involved the team refusing to train, the team director resigning, and some players refusing to play in their final group came, which saw the hosts give one final glimmer of hope of qualification with a convincing 2-1 victory over France, which saw Yoann Gourcuff sent off, but the hosts failed to qualify as Mexico finished in second place on goal difference, despite a Luis Suarez goal just before half time leading to a 1-0 win for the Uruguayans.
Alvaro Pereira of Uruguay was the player with the best Castrol Index rating in the group of 9.24, a rating determined by fans ratings after and during matches.​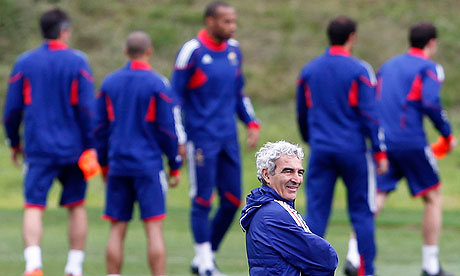 Last edited: