Joined

Mar 6, 2004
Messages

3,421
Location
Well, quite a day yesterday.
In brief, down A12, in Spread for 9.15 am, meet Derek & Keith at 10, Blues Lounge and various ex player/fellow fan good times, bit of book selling (thanks to all - royalty monies on way to Little Havens later today), the match and all the ups and downs of that, goodbyes to all post match (and promises made to stay in touch - will be helping Derek re his book too), back up A12 to Suffolk, drop off SS Jnr at home, in to monkey suit, back down A12 picking up a mate on way, to gala dinner (big thanks to Mike for that), late eve (some good conversations with folk who want to do more for ex-players especially Alan Moody), back up the A12 one more time, and home some time earlier today.
Derek and Keith truly loved their day, they want to pass on their big thanks to all that came along to meet and greet them and to the fans overall for the warm welcome they got when coming on the pitch. The 'Derek Spence is an international' chant didn't appear to work - the tanoy was blasting out music which muffled crowd noise at the time from where I was in the East - but I told Derek re the plan and he was touched. If you did try then thanks, really appreciated. Derek said that Keith was 'welling up' when on the pitch, I don't think he thought he was so well remembered for his time at Roots.
Some great stories came out in our chats on the day. Keith said that he was a bit annoyed with Smiffy at being a non-playing sub for the last game of the 80/81 promotion winning season, he had pleaded to be put on but was just ignored. So after the match in the changing rooms Keith picked up Smiffy and threw him in the bath - Smiffy thought it was great believing it was all part of the celebrations but in reality Keith was annoyed with him!
These days Keith sells hoses for a living - he didn't earn a fortune from the game and has struggled at times with his health due to injuries in his playing days catching up on him (which forced him to give up when only 27). His right leg is permanently badly swollen and at one stage there was talk of it being amputated. But he remains a cheery chap and is clearly great pals with Derek.
Derek is recently retired from his 20 year stint at Blackpool FC working on community projects - he now does some scouting, is starting to do some after dinner speaking (an event at Roots Hall may be a possibility later in the year) and acts as a bus driver for a local school.
I hadn't told Derek and Keith about meeting up with Frankie Ba
nks and Ronnie Poutney so when they both turned up the re-union greetings were great to see. We also met Warren May - not of course of the same era but it as ex Shrimpers they all have a common bond.
I hope the club can do more to get in touch and help ex players, I am trying to do something in my own limited way on this but it all needs some commitment (time-wise and financially) from the club, co-ordination (not easy), and a ground-swell of support (which I feel is there). Yesterday was rewarding and wonderful.
A few pics from yesterday, the larger group one shows in back row from left to right me, Nobbler, Keith, Ron, Derek and Bob S, sitting down are Warren and Stalky. The other pics with Derek and Keith have Andy T and Matt with them, and there is one too with Frank. The final one shows Derek and Keith in the East Stand.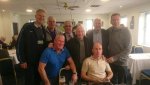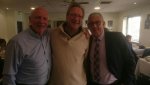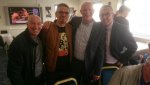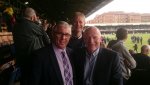 UTB
SS