Joined

Jan 19, 2007
Messages

8,339
Location
Well I had intended on leaving this until nearer the time but things have moved on a little quicker than expected so here goes.
Several years ago I was being all funky and surfing the net when I happened across an web site called TheAdventurists. Through my drunken haze I read about a totally stupid idea of driving from London to Ullan Bator in Mongolia for charity in a vehicle of no more than 1 litre across practically inpassible roads (roads being quite a strong word) in a little under three weeks. To get a idea of what vehicles are suggested, I give you these gems.
or this cheeky little number
On an average road this might not be a problem but then the route we intend to take doesn't have average roads. Kazakhstan for example is alot like this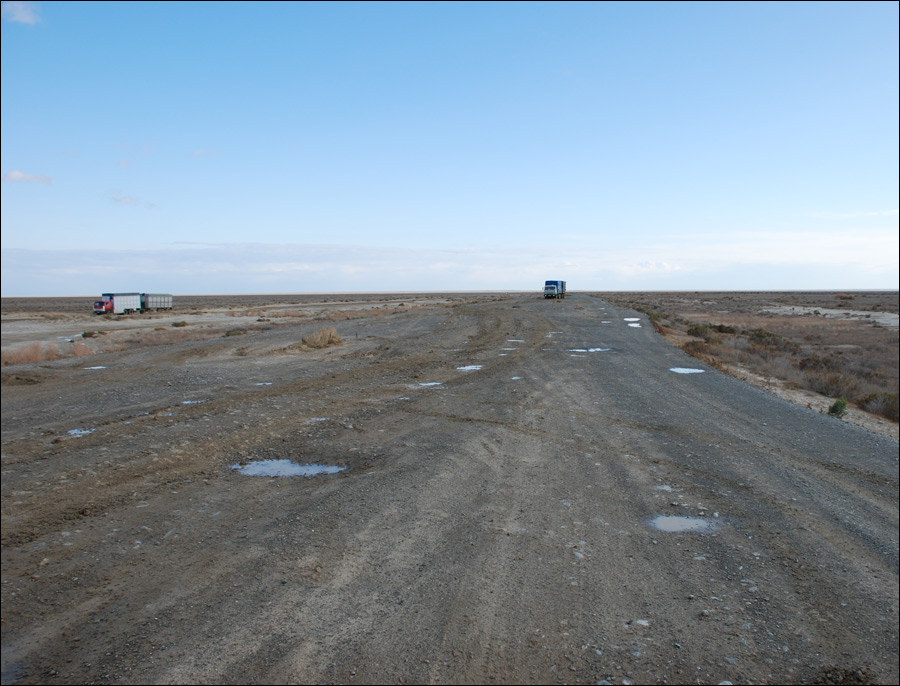 and Mongolia is a lot, lot worse. Observe,
So you get the general picture. It is quite a challenge, roughly 9000 miles of a challenge if you're wondering, amd the chances of making it are somewhat stacked against us.
Our chariot of choice will be a Citroen Saxo with a throbbing 1.2 Litre engine because of the newish 10 year rule which means the Mongolian Govenment doesn't what their country littered with old bangers anymore and gives the vehicles that do make it a better sell on price for the charity. Did I forget to mention that? We auction our vehicle for the charity when (if) we make it. Every little helps.
The charity normally changes every year but it is children based and does no end of good in a country that has had it pretty rough for, well......ever! As people often get the hump with sending money abroad, we intend to back a home charity as well which will be close to our hearts. At the moment both The British Heart Foundation and a charity for support of families suffering stillborn babies are being considered although I am in favour of supporting diabetes. A fist fight will probably decide which one we support. ( Actually it will more likely be three rounds of paper, scissors, stone but I do have a reputation to consider) Our ponce for personal sponsership will come nearer the time via Justgiving.com so put your wallets away for now.
Our route covers some of the most corrupt and bent officials known to man, with Turkey, Ukraine, Russia, Kazakhstan and Mongolia itself topping the list. Some teams in the past have been held at borders for days on end, asked for import taxes touching $50,000 (which brought much laughter from all concerned but was beaten down to $50 dollars and a bottle of wine) threatened at gun point, fined for drunk driving while using a bent breatherliser ( our victim didn't even drink and had nothing stronger than water on his breath) and my particular favourite, a gift to the border guard of a coin from your native country. He was a coin collector and was well made up from a American dime by all accounts. At the same time teams have have used charm ( thats me knackered) to get out of trouble such as the chap who serenaded a policeman in Russia with his guitar and the lads who performed a Take That routine at the Azabajain ferry crossing from Baku to save another day in the queue. Strange but true.
Our team consists of my good self and my co-driver stroke idiot Matt Jones. Matt ticks all the boxes in the form of drinks to excess, abuses the wife behind her back, loves his daughter more than life and happens to be a all round good egg and nice bloke. He is also the reason why i have to grovel a year in advance because he has managed to bag some sponsorship already. Typical isn't it, suggest a perfectly idiotic idea to someone expecting them to say no and they say ok, clear it with the wife and go out and bag some sponsers while your still doing the hoovering and cooking dinner after mentioning it to the better half. So thats me committed which I'm not sorry about as I have been wanting to do this for ages.
What we are looking for at the moment is car sponsorship. So far, thanks to Matt we have three sponsors bagging different parts of the car with their logos. I'm afraid the front doors are bonnet are reserved for the main rally sponsors who pay a shed load of money for the prime spots on the cars but that leaves a lot of space to cover. So far the whells have gone for a very generous donation from a wheel company (strangely enough) and we also have back up from a contruction company and a radio station. So, of course I am on the ponce for more. What we would like is company sponsorship so we can cover the car in logos. For example, if Shrimperzone was to decide to support this excellent cause then we can offer prime exposure on the vehicle (it's Shrimperzone after all and I'm bigger than Matt) Logo and link from the website plugging the rally and what with our radio station backing, possible exposure there. Plus there will always be my undieing love and wish to give you babies (strange thing, I'm ugly as sin but my kids are beautiful so its not a bad deal) Of course, I'm not just smiling at Shrimperzone, my leer extends to all of you who owns or works for a successful, giving sort of company who likes to sponsors dumb stupid idiots like my good self.
This is the serious bit, I have tried to make this humerous and care free but alas thats not the case. People have died on this rally, it really isn't a case of jumping in your car and driving 9000 care free miles on a jolly up. Some teams have ended up in serious accidents, at least three people have died and several have been banged up in jail on jumped up charges. Teams have suffered car jacking, robbery at gun point, and even a drive- by shooting. And just to give it some real juice, there is absolutley no support or back-up. Really, we breakdown in the middle of a desert then we are on our own. It is stresed in the strongest terms that we are totally on our own and if the unthinkable happens then tough, its down to us. During the 2010 rally, teams were held up at a Mongolian border crossing for three days at gun point due to a ****-up with import papers and no support was given at all. Several people got blooded from over zealous border guards and while the Yank and Aussie teams attitude was to bitch and whine about it and demand phone calls to their embassies the british atitude was to have drag races in the compounds with decomissioned ambulances, no prizes for guessing who felt the business end of a border guards gun.
Potenial sponsors, you are not paying for a jolly-up Matt and myself have had to put up plenty of our hard earned to take part in this. The car, insurance, personnal insurance, visas, flights home is all being paid by ourselfs. Our personnal outlay exceeds £1000 each. Oviously, personnal sponsorship would be greatly recieved but that would have to be agreed right from the start and not considered as a given by ourselves. At the moment we are looking for visual sponsors who might want to see two idiots die horribly in a desert drinking motor oil while trying to raise a couple of quid for a good cause.

Anyone taking a gander at the Adventurists website might see that they are signing up for the 2011 rally but be assured we will be on the 2012 rally as I will be acting as a stewart which garantees us entry to the 2012 event so this isn't pie in the sky.

Well thats it. I'm giving you the chance to car sponsor two fools to drive 9000 miles in a car usually used for a weekly shop at Asda. We stand a chance of being shot at, battered, robbed and man raped in the name of charity mate.

Any questions then please feel free to ask and if the Shrimperzone team could sticky this then I would be grateful.

Al.
Last edited by a moderator: